The 2017 general election was called on 18th April, 2017 as a "snap election" by Theresa May. It received authorisation from parliament, with only 13 noes. Parliament was officially dissolved on that day. Most opposition parties, including Labour and the Liberal Democrats, supported the call of a general election.. The Tories appear to be leading in the opinion polls quite comfortably, however during the election campaign the gap has been closed somewhat, mainly by Labour gaining ground.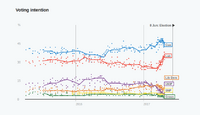 Further reading
Edit




References
Edit
Ad blocker interference detected!
Wikia is a free-to-use site that makes money from advertising. We have a modified experience for viewers using ad blockers

Wikia is not accessible if you've made further modifications. Remove the custom ad blocker rule(s) and the page will load as expected.